Barbeque and Patio Wines
Barbeque season is upon us folks - and if you're like me, the first spark of the grill marks the imminent arrival of summer. I've been known to BBQ in the garage throughout the frigidly cold Canadian winter months - but the boards for the ice rink are packed away and it's now time to enjoy the taste of spice-rubbed meat, mixed vegetables, and corn on the cob all grilled to perfection under the blazing sun.

With the hot weather just around the corner, we should also rethink what wines pair with these intense backyard flavours. Rich sauces, marinades, not to mention that wonderful charcoal infused scent will linger for hours and easily overpower many of the more delicate and aged wines. As with any food pairing, consider the meal's overall flavour package which now includes cayenne pepper, basil, tarragon, garlic-laced tzatziki, and endless salad combinations that make for a smorgasbord of flavours to consider before popping the cork or cracking the cap.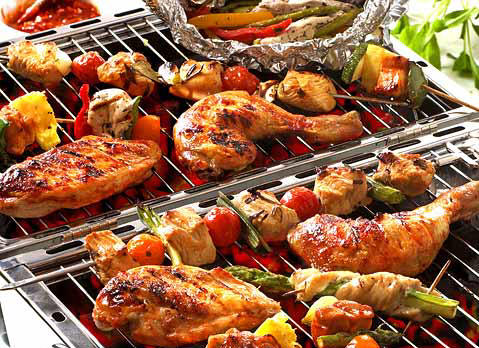 The obvious choices for red wines are Zinfandel and Shiraz, both which have the stuffing to stand up to big flavours. Zinfandel (also known as Primitivo in Italy), has a spicy note while Shiraz aka. Syrah combines black pepper and smoke; either will work well - and if you grill over charcoal, even better.

When choosing a barbeque friendly white wine, again, keep it rich: an off-dry Niagara Riesling or lightly spiced Gewürztraminer both work well with pork and chicken on the grill. Any residual sweetness in the wine will match the spiced character of the grilled food. With seafood, try the intensity of Sauvignon Blanc from Ontario, New Zealand, or France. Lightly seasoned plank salmon calls for Pinot Noir and I'd go for one from Ontario's Prince Edward County or a fruit forward Oregon favourite.

Another approach is to consider each wine's place of origin and the style of food in that region. Grilled lamb is a delicacy in the Mediterranean, so in keeping with tradition, a Spanish Rioja reserva or a bottle of Italy's Chianti or Brunello is not only logical but also ideal. A big California Zin, Aussie Shiraz, or Chilean Malbec alongside a think cut of beef tenderloin brushed with peppercorns, a side of baked potatoes, and sautéed mushrooms is pure perfection. Serve the reds slightly chilled to retain their freshness in the backyard heat.

Other good choices you might consider are the ever friendly and backyard favourite – Merlot, or the green flavours of an Okanogan Cabernet Franc which will match nicely with the intensity of grilled asparagus and bell peppers. Well-chilled Pinot Grigio or a crisp dry Rosé are go-to wines on the patio when neighbours pop by for an impromptu visit.

I wouldn't blow the bank when selecting summer patio and barbeque wines; save the fine wine for fancy dinners in the dining room. BBQ is usually quick, easy, and deliciously messy: salads, kabobs, and a pitcher of lemonade or ice tea are essential – but avoid a $65 bottle from Burgundy. Not only will it stick out like a sore thumb in the relaxed environment, but the lightweight and delicacy of such labels will also fall flat when paired against the massive flavours of the grill.

Summer brings out the creativity in all of us - have fun with it and see what works best for you.

Happy Grilling!