Combining Cranberries, Wine, and the Turkey Feast
It's a little known fact that the dish of stewed cranberries which follow the heaping platter of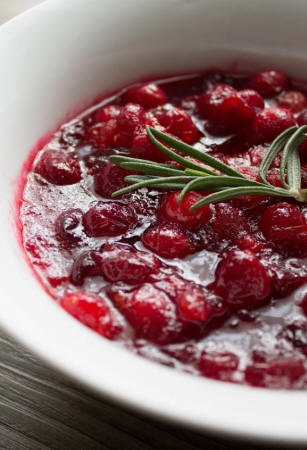 turkey around the dining room table not only serves as a holiday tradition, but also to accomplish a significant gastronomic purpose in the context of the overall meal.

Considering both the weight of the food and the smorgasbord of flavour intensities, there is also a need for clarity, so to speak. The tartness of the cranberry sauce provides that salivating streak of acidity that easily carves through the palate-coating goodness of the more weighty entrée and side dishes.

While cranberry sauce is a favourite in my family, I've never been one to partake in the sugar-infused, bursted-berry concoction as it makes its way from person to person at the holiday table. Instead, I find my moment of palate rejuvenation by way of a fermented alternative - go figure.

Pinot Noir is my holiday staple - but there are other reds that work equally well. Lighter bodied variants such as the inciting wines of Italy's popular Barbera grape and the ever-popular Sangiovese based Chianti. Consider as well, cool climate Shiraz and Gamay from here in Ontario or deep in the heart of France; both are all ideal substitutes – that is, if you don't fancy the heartbreak grape.

Sourced from cooler regions and served alongside the multitude of festive flavours, these food friendly wines mingle with ease. Their styles present a degree of cranberry/cherry tartness and in some cases, subtle hints of spice combined with a clean streak of acidity that is sure to awaken those saturated holiday taste buds.

In the unlikely event that cool climate red wine is not your holiday preference, then Riesling is the equivalent white, for its pairing potential. Chardonnay is traditional, but if clarity is the goal, then keep the Chard unoaked, or lightly so - Chablis anyone?

Not every pairing need be in contrast either. The potential to complement that fork full of turkey, gravy and cranberries with a swish of liquid cherry and cinnamon spice is something every wine lover should experience this holiday season.

For dessert, remember to serve a wine that is at least as sweet as the dish, otherwise the drink will taste bitter by comparison. Of course a cappuccino works well too – I take mine with a pinch of sugar…

A few more Holiday Wine Suggestions:

2009 LAN Rioja Crianza, Spain – Spanish goodness and arguably 'the best value' in the LCBO; less oak than reserva wines of the same; exciting to taste and perfect to pair with rich flavours. LCBO #166538 | $15.95

2011 Sandbanks Winery Shiraz, Ontario – exceptional cool climate Shiraz from Ontario; unexpectedly elegant and shockingly well made; perfect to pair with roast turkey and all the savoury trimmings. LCBO #355982 | $19.95

2011 Domaine Parent, Pinot Noir Bourgogne, France – affordable Burgundy that actually hits the mark; a solid example of why the region is so famous. Dried cherries, cranberry, and raspberry intertwine with earth driven notes and a hint of spice; a bite of food and a taste of wine will prove magical – but taste with caution, you might catch the Burgundy bug. This label is getting a bit hard to come by this year, though certainly worth the search. LCBO #597971 | $21.95

2010 Pierre Sparr, Altenbourg Riesling, Alsace France – For those turned off by the sweeter style of late harvest Riesling, this example from Alsace is dry by comparison; sensations of stony minerality plus pineapple and lemon/lime citrus throughout; finishes with a touch of spice and enough verve to cut through the weight of a big holiday meal. LCBO #906016 | $16.95

2011 Muskoka Lakes Winery, Maple Red – Cranberry/MapleSyrup Dessert Wine, Ontario – To be quite honest, you'll either love this dessert wine or find it a bit too much – I love it! Those overwhelmed by the intensity might try adding tonic water to create an aperitif style wine. Consider serving a very small glass alongside the turkey entrée for an incredible taste contrast. LCBO #50039 | $23.95



The "Cosmo" Cranberry Sauce
- a creation of Christine Cooper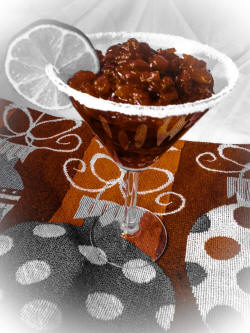 Inspired by the classic Cosmopolitan cocktail, this version of Cranberry Sauce kicks it up a notch with the addition of Vodka & orange liquor. The first time I made this Cranberry sauce I was surprised at how much more tartness the cranberries took on and the rave reviews made this recipe the "go to" for Cranberry sauce. To add to the presentation I serve it in a martini glass, rimmed with course sugar and a slice of lime.

Ingredients:
1 - 12 ounce bag of fresh cranberries
1 Cup Sugar
½ cup of water
½ cup of orange juice (preferably fresh squeezed)
1/3 cup of Vodka
3 tbsps. of orange flavoured liqueur (Grand Marnier, Triple Sec)

Directions:
In heavy medium saucepan over moderate heat, combine cranberries, sugar, ½ cup water and ½ cup of orange juice. Bring to boil, stirring often to dissolve sugar, then reduce heat to moderately low and simmer, stirring often, until thickened and reduced to about 3 cups, about 15 minutes.

Transfer to medium bowl and cool, stirring often, until tepid, about 30 minutes. Stir in vodka and liqueur. Transfer to serving bowl, cover, and refrigerate until chilled and set, at least 2 hours. Because of the natural acidity of cranberries, this sauce can be made up to 3 weeks ahead. Just keep it refrigerated.

Variations:
The alcohol can easily be omitted if you are worried about making this a child friendlier recipe. Add a dash of orange zest and a couple of whole cinnamon sticks when boiling/simmering the sauce. Remove cinnamon sticks after sauce has cooled.