The Curious bottle of '71 Remoissenet
- the second report on a long awaited dinner and tasting opportunity
For as long as I have shared in the excitement of collecting and serving fine wine, I have also quietly sought one particular vintage. Adding to both my challenge and dismay, the vintage keeps getting further away with each passing year - and no one knows that better than me.

Bottles commemorating one's anniversary or birthday are a fascinating exploration of history and ever-changing taste. Unfortunately, any chart that you might find on the subject and dating beyond the mid 1980s, focuses on the potential of red Bordeaux - and little else, if anything. I find that a touch frustrating, primarily because my birth year is 1971, an 'off vintage' as far as bottles of Claret are concerned. Nor is the idea of drinking oddball '71 Bordeaux terribly appealing as we enter the final month of 2013. With much gnashing of teeth combined with some additional research, it turns out that my best option for vintage '71 is none other than red Burgundy - lucky me. Though that does make the search ever more challenging, as good Burgundy is the exception not the norm – and bottles from 40+ years ago increase that uncertainty tenfold.

Aside from the occasional auction catalogue in my mailbox, the search has become somewhat passive in the last year. So imagine my surprise, when a friend and fellow wine enthusiast contacted me recently with news that he had just purchased an old bottle of Volnay, a Burgundy, 1971 premier cru Les Caillerets (there are no grand cru vineyards in Volnay). He suggested that we gather a group to taste the vintage bottle. "Let me make a few phone calls," I responded with excitement, "and what can I contribute from my cellar?"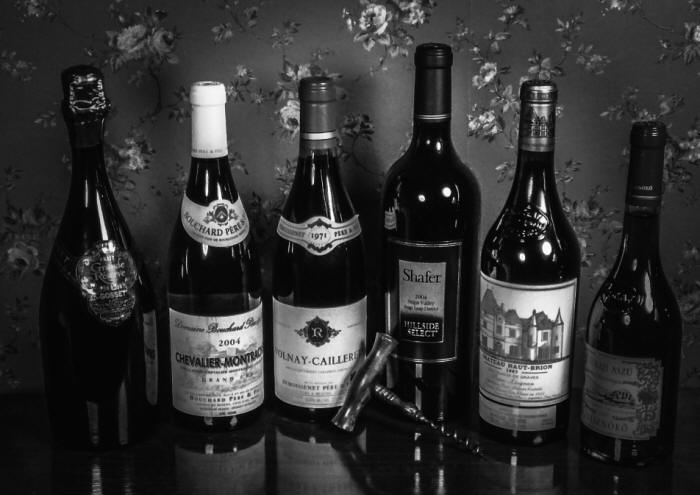 Along with the '71 Burgundy, which I will share my thoughts on in a moment, we opened bottles of 2004 Gosset's Grande Reserve Champagne, 2004 Bouchard Chevalier-Montrachet, the 2003 Château Haut Brion, '04 Shafer Hillside Select, and the 1997 Disznókö 6 Puttonyos Tokaji Aszú. Not a bad line up for a Saturday night.

The Gosset was spectacular - it always is. Aged for 7 years in our cellar, the tart citrus edge had begun to mellow, bringing forth a more earth-driven softness that I love in old Champagne.

The '04 Chevalier-Montrachet had unfortunately begun a downward spiral and was now displaying pronounced bruised apple and fig aromas with tastes not unlike a weak sherry - best forgotten, I regret.

The 2003 Haut Brion and '04 Shafer certainly did not disappoint and a review of those two wines together is available <here>

The Tokaji was intoxicatingly perfect after dinner and reflected its botrytis fruit and natural Hungarian additive. Notes of apricot, citrus peel and honey spice prelude a syrup-like raisin sweetness while retaining a streak of freshness that you expect from a rarely seen 6 puttonyos wine.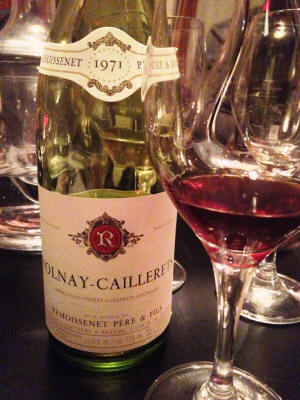 The star of the show, however, was the '71 Volnay-Les Callerets, which spent most of the evening peering at us through its glass-walled prison cell. Through the light green tinted glass, the wine's colour appears surprisingly vibrant – almost rosy pink, as I search for adjectives. But my thoughts are that it should be anything other than 'pretty' by this point. Nor is there any sediment in the bottle i.e. no breakdown of the wine's tannin structure or colour has occurred over time. I'll admit to being somewhat concerned and yet equally eager to taste.

No decanting of a wine served at this age is necessary; the oxygen will be less than forgiving when the cork is drawn. At 42 years, the Volnay will likely live for 20 minutes in the glass and then fade at an alarming rate - I've seen it happen before with Chateau Latour and Marques de Murrieta's Castillo Ygay, both of the 1970 vintage.

If the colour of the wine was a bit concerning, the name on the bottle was the reason: Remoissenet, Père & Fils, in additional to their history of producing top-flight wines, had a haunting period of questionable wine bottling practice. In the mid 1970s and early '80s, the house of Remoissenet was suspect of shipping alternative wine in falsely labelled Burgundy bottles to importers in England. That unlawful practice came to a crashing halt in 1983 when the estate's owner, Roland Remoissenet, was exposed and later convicted of fraud. The historical estate was subsequently sold in 2005 to American and Canadian investors and now functions in top form to produce some of the consistently finest wines in the region. I am hopeful that the '71 served at our table tonight was bottled before the fraudulent tactics were employed by the old hands.

If this wine is indeed authentic, then the following quotation holds true:
"If Volnay makes one of the Côte's lightest reds, it can also be the most brilliant. Longest lived are the Clos des Chênes and Caillerets, the great names are here" – Hugh Johnson
Tasting the 1971 Maison Remoissenet Père & Fils, Volnay-Caillerets 1er Cru:

The standardization of wine bottle sizes did not occur until the 1973 vintage in Europe. Our '71 tasted this evening reveals 720 ml on the label. The ullage level at the lower neck is also reassuring of its age. Had the bottle have been full, I might question the authenticity further.

Tasting the contents reveals a wine that is undoubtedly comprised of a large amount of Pinot Noir. The body is light and transparent. Notes of cherry and raspberry dominate plus hints of cinnamon spice. The fruit is not at all dry to taste, rather there is an unexpected degree of freshness and juiciness on the palate plus additional spice on the finish that becomes increasingly more pronounced with each sip. "The wine is changing quickly", someone at the table suggests - and within 15 minutes the contents of my glass has oxidized to the point where it is no longer pleasant to taste. Strangely, I love it when this happens!

There is, unfortunately, no person alive today that can adequately explain the secret to Maison Remoissenet's shockingly young tasting wines. The best explanation available is that during the acquisition of the property, the cellar contained massive quantities of cellared bottles; each stored under ideal conditions and never once moved prior to their sale to the public. These bottles in question were essentially kept in a time capsule, so to speak.

If this '71 Remoissenet contains more than the traditional Burgundy grape varieties or allowable blends thereof, I will never know. What I can conclude, is that it was an absolute pleasure to drink. I suspect, that what we found so incredibly enjoyable this evening, was indeed a good part Pinot Noir and perhaps something a little more sinister. How else could a 42-year old bottle of wine taste so alarmingly fresh, and be so vibrantly coloured? Should it be pure to the Pinot Noir grown in the vineyard of Les Caillerets and in accordance with the rules of the region, then I am truly amazed - and this bottle will reserve its place atop my ziggurat of finest wines tasted to date.