Tasting 2003 Château Haut Brion and 2004 Shafer, Hillside Select
- the first of several thoughts on a long awaited dinner and tasting opportunity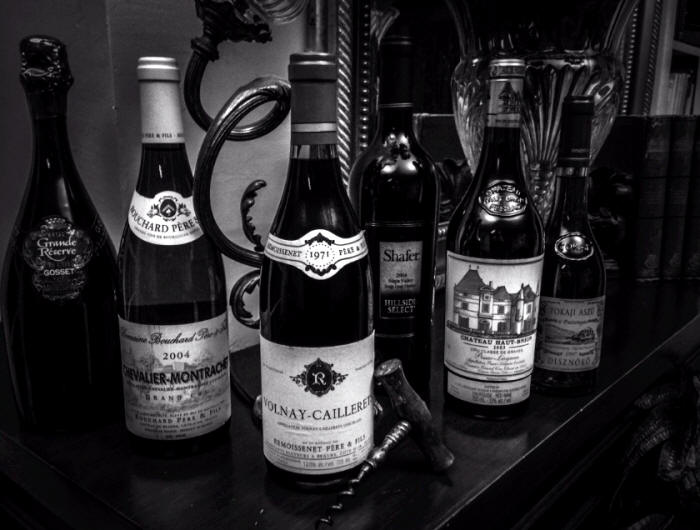 I have mixed feelings about purchasing and serving wine of this calibre. When, where, and with whom do you consume such luxury items? Are they really that good - or do we simply convince ourselves based on expectation? Furthermore, how many bottles might I have bought for the cost of this single tasting opportunity? Truth be told, these are more questions than concerns - and the opportunity to share these incredible labels within a group who truly appreciate the moment, far outweighs any amount of late night second-guessing that might occur on my part.

The 2003 Château Haut Brion is my fourth purchase from this great estate in varying vintages. Two of the past three occasions were monumental - the other had unfortunately faded beyond recognition. 2003 was an atypical growing year in Bordeaux and Europe in general. Temperatures soared to extremes never witnessed at these cool wine growing latitudes, the vines thrived, brix levels rose well above what is normal, and the winemakers began to panic upon the realization that no break from the heat was forecast. Techniques and countermeasures were employed and the wines of 2003 represent a first for each of the great Châteaux.

I consider Haut Brion the gentleman's choice among the great Bordeaux wines. Given an option to purchase one of the five Grand Cru Classé labels, it is my preference and in this case, my contribution to the gathering.

In the other corner and tasted alongside - or against, depending on one's need for competition, is California's 2004 Shafer, Hillside Select, generously brought to the table by a friend and passionate wine enthusiast. I have enjoyed numerous bottles of Shafer over the years, but never their flagship label, Hillside Select. That said, I understand that it is showered in rave reviews.

As I decant the two great wines before the group, the Bordeaux retains its composure, staring down the seemingly bolder new world ambassador in the opposite corner. Their colours are similar, both showing deep hues of ruby red with only a hint of age at the rim. Decanted one and a half hour prior to serving, aromas of blackberry, cassis, and licorice gracefully rise from both glasses - the Shafer is more ripe and fresh, perhaps, while the Haut Brion shows a bouquet that includes leather, tobacco, and earthy driven tones, a reflection of vine's gravel based roots. There are aromas of spice in both wines, but notably sweeter in the Shafer, which projects a degree of intoxicatingly delicate vanilla, though by no means overdone like so many other California high-end bottles I've tasted. The Bordeaux has presence and fortitude - competition seems pointless at this point, and both wines exude class without a fragment of attitude in either case.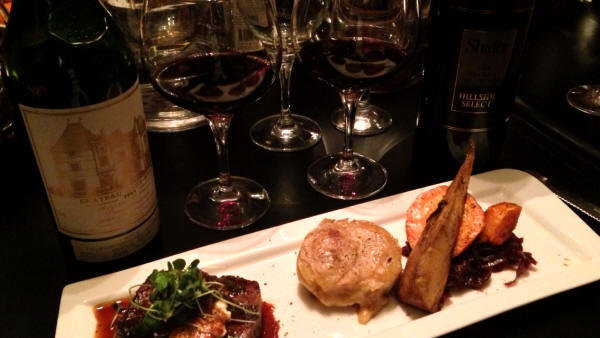 Placed before me is beef tenderloin in a veal reduction with caramelized onion, roasted vegetables and potato dauphinoise – and yet, I am so drawn by the wine, that I haven't noticed the food until now. Glancing around the table, the gentleman who brought the Shafer to dinner catches my eye. He hasn't touched his entree either, and we grin knowing that we share the same thoughts: "They are incredibly similar, yet so unique." he states in praise of both wines.

"Nothing is out of place. The balance in each is perfect." I respond as he nods.

Five minutes pass before either of us takes our first sip. To be truthful, I'd be just as happy to sit and study the aromas all night.

The serving temperature, at 18 degrees, is perfect; any higher, and the character of each wine becomes obscured - an easy mistake to make on a cold winter night.

Both wines are medium bodied - a pleasant surprise from the Shafer; I was expecting a much bigger wine, considering the source. Across the palate, the Haut Brion is dry, very dry, even dusty, and significantly more so than the big Cali Cab. Sensations of dried fruit and hints of spiced cocoa powder erupt from the glass only to linger on the palate indefinitely. There is clarity in these wines - a personal indication of the highest quality.

The Shafer by comparison is dry, but not overly so and the fruit is fresh and delicate - juicy would be correct: like a dish of blueberries and blackberries. There is chocolate as well, rich cherry filled dark chocolates, but less spice on the finish and more lingering freshness, though it easily holds its final note for the same length the Frenchman.

What can one make of all this nonsense? That depends entirely on what you set out to prove. I desire only to create the opportunity to share these experiences with others and to watch their facial expressions as the wine slides across their curious palates. The combined value of these two bottles is nearly $700. Was it worth it? I won't answer that, because frankly, I don't actually know. I've tasted numerous $40 bottles that have left me equally impressed - but fine wine is one part beverage and the other part atmosphere. Once you learn to share the experience with those who are equally fascinated, all the pieces seem to fall into place.

It is the lead up to the moment that I enjoy most, a level of anticipation that keeps me on the edge of my seat, and the element of discovery or even disappointment that finds me coming back for more. To taste these two wines in this setting was an opportunity not soon forgotten and once again, I am humbled by the magic of wine.