Dijon to Gevrey-Chambertin

Arriving in Paris under an overcast sky brought forth a rush of memories. Thirteen years ago I lived here briefly, teaching airline pilots from the Channel Island of the U.K. at Paris' Le Bourget airport. My interest in wine at that time was only just beginning to flourish and but for a few bottles brought home to Canada, I spent my free moments exploring the artistic and architectural side of this great city rather that the vast wine regions of France.

The vineyards of Burgundy's Côte d'Or begin just south of Dijon. Amazingly, there are no visible vines in the countryside during the hour and a half train ride south from Paris. Arriving in Dijon, I find myself completely exhausted from the journey. A wiser man would manage a few hours of rest prior continuing on, but no, this town is desperately in need of my attention.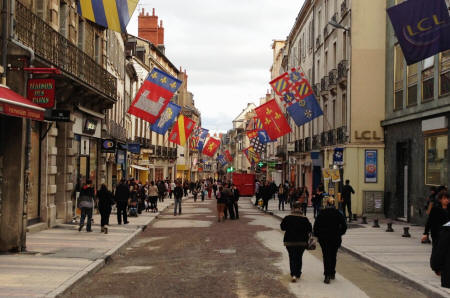 At first glance, Dijon is non-descript, slightly run down, and easy enough to pass by on the highway without notice. But at the centre of town is one of the most picturesque and captivating collection of shops, restaurants, and boutiques that I have come across in years. It was hard to resist purchasing a few bottles but the focus of my trip was to backpack through Burgundy and thus I really had no method of transport for anything that I might buy along the way.

Aside from the obvious mustard connection, Dijon is home to the French aperitif drink Kir [keer] which combines five parts Aligoté with one part crème de cassis. The Aligoté grape is grown throughout Burgundy to make dry white wine though it is generally thought of as inferior to the more exalted Chardonnay in the region.

After the rich tasting and slightly bitter glass of Kir, dinner on day one was a delicious Greek(ish) salad appetizer followed by a beef-based dish in a red wine sauce with steamed vegetables. I should note that well over a decade has passed since I last sat down to a meal in France. Apparently I've forgotten that unless the meat is slow cooked to a tender perfection i.e. bourguignon style, the French are seemingly unable to grill steak. Furthermore and for future reference, medium equates to petrified shoe leather, but
that's okay: the first time it was their mistake, the second time it was mine.

A simple bottle of '09 Bourgogne, Hautes Côtes de Nuits from Domaine Bonnardot with dinner was my first opportunity to taste from the region. The vineyards of the Hautes Côtes de Nuits lie along the outskirts of the greater Côte d'Or and do not hold the same level of prestige due to inferior soil composition and/or poor exposure. This bottle was graced by the label of the Chevaliers du Tastevin which in theory is an indication of quality via a rigorous selection process among submitted wines; i.e. the best of what is left. I suspect that my '09 Hautes Côtes de Nuits was exactly that. The wine was more floral than fruity my notes say; medicinal at times; clumsy and almost artificial. I shall need to find a better example.

If dinner was slightly substandard, the view of the cathedrals and old architecture on my way back to the hotel made up for any gastronomic shortcomings. Dijon is a stunningly beautiful town full of history and I will certainly return with my wife for a vacation, but for now, there is a pillow with my name on it.

... the sound of intoxicated song awakens me in the middle of the night provoking the following message via Twitter moments later: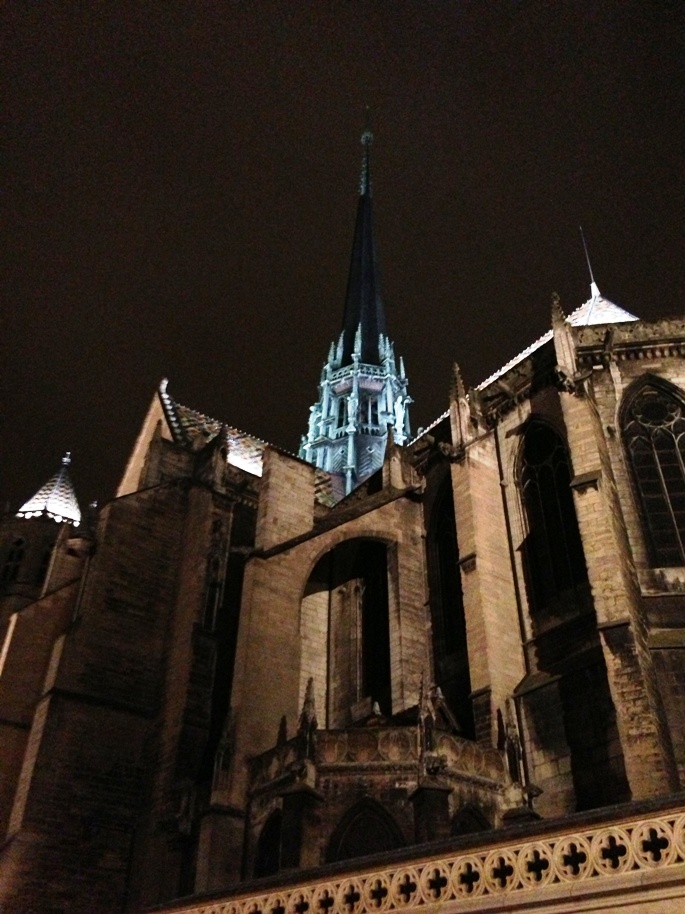 'It's 3 am, a drunken Frenchman is singing outside my window.
Options: a) close window b) throw something c) go outside and join him.'

- Votes from home are unanimously in favour of joining the party...

A short taxi ride in the morning to the tiny village of Fixin found me at beginning of my hike southbound to Vougeot on day two. In this post, I'll take you as far as the walls of Morey-Saint-Denis.

The gateway to the Côte d'Or and is found just south of the rosé producing village of Marsannay-la-Côte where Fixin [Fissen] marks the beginning of the routes des Grand Crus. I'll walk the 45km route from here to Santenay over the next 3 days stopping in each village to taste the wines that represent the style and terroir of that commune.

Fixin is a quaint village, slightly more than a populated intersection while its neighbour and overbearing brother to the south is the great Gevrey-Chambertin. The vines here hardly differentiate between the two names, which makes the Pinot Noir from Fixin a remarkably good deal by comparison. Within Fixin is a museum dedicated to the life and accomplishments of Napoléon, but my degree of focus had me bypass the French hero's memorial to taste the product of the vine instead.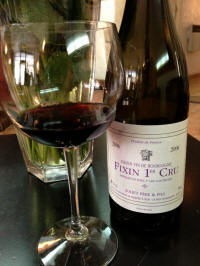 A few days prior and while still in Canada, Jacquie and I enjoyed a bottle of 2006 Fixin from Domaine Gelin and I will attest to the claims that this village is indeed a little known opportunity and source of great wine. On the way through Fixin, I stopped by a local restaurant just before the lunch hour to sample a taste of the village in the form of Domaine Joliet. As you work your way south along the Côte de Nuits, the Pinot becomes increasingly more delicate and at time quite perfumed. As expected, this premier cru wine was deeply coloured and medium bodied with hints of mint, cinnamon, and cranberry on the nose; uplifting tastes of dried cranberry, cherry, and just the slightest spice on the finish - quite nice.

Outside of General Bonaparte's accomplishments and demise, Fixin has one of the few remaining outdoor laundry facilities. And while I appreciate how bizarre that may sound in the context of a wine article, the structure is actually quite impressive. The 'washhouse' as it is known vaguely resembles a miniature-scale Roman colosseum, and if you use your imagination, you can still hear the ladies' conversations around this once daily activity - I smile and walk on.

The first true indication of what breathtaking sights wait along this historic route become obvious as you leave the village of Fixin and make your way toward the legendary vineyards of Gevrey-Chambertin. The distance between these two villages is no more that 3km but the sight of the 'golden slope' extending up to the tree line above and the stone walled clos that define each plot of vines is truly awe-inspiring. A smaller community known as Brochon lies between Fixin and Gevrey-Chambertin. The wine produced in Brochon is not recognized under its own name but is sold as Côte de Nuits Villages instead. The law and historic rules of vineyard classification define this land but as you look beyond the vines you can't help but wonder how much of this certification is (or was) purely political in nature. Over a distance of 3km, on a hill that barely changes either direction or slope, how much of a noticeable difference could there possibly be in the quality of the fruit produced? I taste the grapes as I pass by the various vineyards: aux Herbues, Préau, and en Champs; there is very little difference at all. A moment of doubt on my part…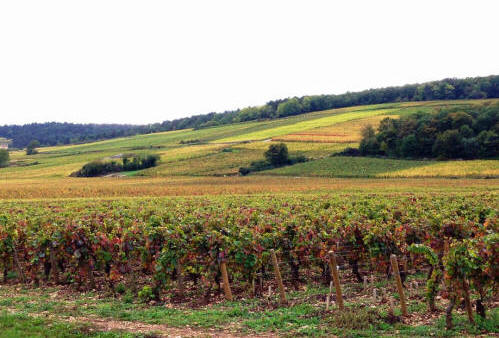 A place like Gevrey-Chambertin could be famous for a number of reasons: the landscape is beautiful, the building are historic, and the wine is arguably second to no other. The Grand Cru Chambertin was Napoléan's favourite wine and remains one of Burgundy's greatest labels. It commands incredible prices at auctions and leaves those lucky enough to try it scarred for life since little else will ever compare again. I consider myself one of the fortunate.

"I forget the name of the place; I forget the name of the girl; but the wine was Chambertin." - Hilaire Belloc (1870-1953)

On my right as I enter the village of Gevrey-Chambertin is the oldest Château in the region. Pigeons fly in and out of the 13th century tower as an elderly woman tends to the gardens below. It is unquestionably beautiful and represents an important component of French history. But much to the chagrin of the local winemakers, this historic French landmark and its vineyards were recently purchased by a Chinese business tycoon and casino owner. In the words of one resident of the village: "How would the Chinese like it if we bought a portion of their Great Wall? This is our heritage, not theirs." Let us hope for the best mes amis, perhaps it is all in good taste.

In the centre of Gevrey-Chambertin I stop to visit with Domaine Philippe Leclerc. I've tried his wines twice before while travelling in the US but unfortunately the domaine does not ship to Canada due to our alcohol taxation laws. The six wines that I taste all quite good and clearly demonstrate the range of classification between regional Bourgogne and Grand cru status here in Gevrey. Tasting wine however, is only one aspect of this adventure: the architecture and what lies beneath each of these villages is truly what fascinates me. Monsieur Tyler would you like to see our cellar? ...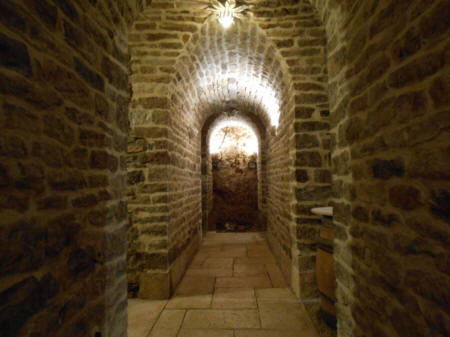 14th century architecture is both alluring and captivating. The hand-carved stone, vaulted ceilings and bold ironwork all state a sense of power and presence. Now fill that same structure with bottles, old wooden casks, and antique light fixtures and you suddenly have my undivided attention. To be very honest, the wine becomes secondary as I ponder how French stonemasons might have constructed these vast tunnels below the surface. In most cases the excavated material was used to construct buildings on the surface; essentially, that is how Paris was built as well. As an outsider you can only adventure so far before reaching a makeshift barricade that blocks the rest of the tunnel. I asked why it was blocked and was told that all the underground caverns are connected. At one point, they said, you could walk beneath the surface to any one of the cellars in the village. Many sections of these cavernous passageways have undergone some aspect of restoration over time, but to a person from the 'new world' they represent a wonderful glimpse of the past. The décor of the cellar below Domaine Leclerc has a strange but intriguing medieval theme; I like it, and as I walk through the tunnels stopping to marvel at the thousands of bottles that are neatly stacked, I feel as though someone or something is watching my every move.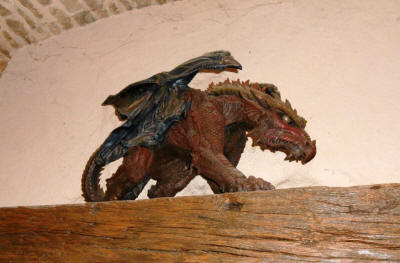 Leaving the village of Gevery-Chambertin I make my way over the next hill and continue toward Morey-Saint-Denis. Along the path, I stop to taste the fruit from the vines of the Grand Cru vineyards of Mazis Chambertin and the great Chambertin itself. I have no constraints, no obligation or deadlines. My only schedule is to be in Vougeot at some point tonight. What an incredible place.

In my next post, join me to taste the beautifully fragrant wines of Chambolle-Musigny and spend the night in historic Vougeot with a bottle of Grand Cru Corton. It's all good
read part 3 - Morey St. Denis to Vougeot