A Change of Season
- wine tips for Thanksgiving and the holidays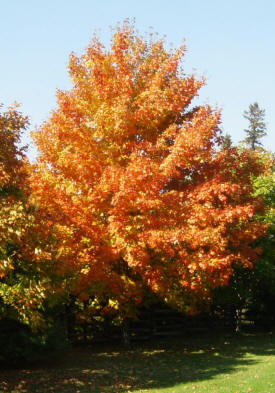 As written by T.Philp and previously published in the autumn 2010 edition of Footprints magazine
Autumn is arguably the most beautiful season of the year and the cool afternoon breeze is always a welcome change after the sweltering heat of July and August. In the distance, the rustle of vibrant-coloured leaves creates an ever-changing canvas, which has an almost surreal effect on my wife Jacquie and me. For a moment, I think time might be standing still as we sit in the backyard watching our children rake leavers into an enormous pile only to cannonball into the middle and resurface grinning from ear-to-ear. It's beautiful here and the change of season always reminds us of yet another opportunity to gather with friends and family.

This year, Thanksgiving falls on the weekend of October 14th. And while the holiday is synonymous with gathering and giving thanks, traditionally in Canada, the second Monday in October represents the close of the harvest. Our American friends enjoy their Thanksgiving holiday on Novenber 28th this year. Regardless, Thanksgiving is a time to gather around the table, to enjoy each other's company, and to share a wonderful meal with a few bottles of wine. With that, may I make a few suggestions to enhance your enjoyment of the occasion?

The customary Thanksgiving entrees are turkey, ham, or both and that opens a wealth of opportunity for pairing wine with the meal. But let's uncork and pour much earlier in the day shall we – perhaps just after your guests arrive – a glass of Champagne or sparkling wine is a perfect way to get the festivities underway.

In our house, things get quite busy and Jac likes complete control of the kitchen; a place that sadly, I am not welcome on Thanksgiving, Christmas, Easter, or any other holiday for that matter… Rather, if weather conditions permit, we head outside for a stroll through the gardens where Champagne and the crisp autumn air are a match made in heaven. Unfortunately though, most people still reserve sparkling wine for New Year's Eve festivities and otherwise deny themselves of its pleasures. Thanksgiving is the perfect opportunity to pop a cork and raise a glass.

In terms of food and wine pairing, we are all familiar with the cliché: red with beef and white with fish and poultry but it's only a guideline, at best. Instead, consider matching the wine with the overall flavours of the meal. While the turkey itself is quite mild, Thanksgiving dinner is normally a smorgasbord of flavour intensities: stuffing, gravy, and the many side dishes can be quite rich by comparison. Consider a wine to match these intense flavours such as Shiraz, Riesling, or new world Chardonnay. On the softer side, choose a Pinot Noir or one of the Beaujolais Crus, even a lightly oaked Chardonnay will pair nicely.

With the ham, again consider the overall preparation: is the meat glazed with sweet flavours such as brown sugar, honey, or apricots, or will it have a tangy zest such as Dijon mustard? The wine should compliment this element of the dish. Sweet flavours call for an off-dry Riesling or light-bodied Gamay, whereas the mustard glaze combined with the saltiness of the meat works nicely with Ripasso, Gewürztraminer, and Pinot Noir.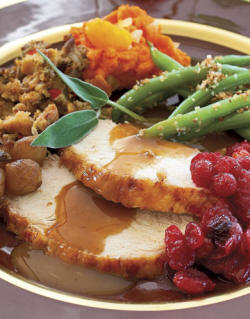 If serving a salad, rather than vinaigrette, which clashes with every wine, try creating a dressing using the wine as a base.

Of course, what is a feast without dessert? If you do elect to serve a dessert wine, do so prior to tea and coffee and remember that it must be at least as sweet as the dish. Consider something fortified such as Maderia, Sherry, Tawny or Vintage-style Port.

A final word on the subject of temperature: No single factor is more important to the overall enjoyment of your wine than its temperature. With the oven and stove running all day, the kitchen may be the warmest room in the house. Consider storing your bottles elsewhere and never rapidly chill your wine in the freezer. Instead, a bucket of ice water will cool these bottles quickly and evenly. Serve sparkling wine well chilled at approximately 6˚C and red wine at between 16 and 18˚C. Keep your whites chilled at around 10-12˚C. Fortified wine is traditionally served on the cool side though personally, I prefer mine at room temperature.

With autumn's splendour in full swing, I hope that you do take the time to enjoy the season with family and friends. If you decide to serve a few nice bottles, please take an extra moment or two and set the tone for a perfect day.

A few 'higher quality' wine suggestions for the Thanksgiving feast
Sparkling Wine
Château Moncontour Cuvée Prédilection, Brut Vouvray 2010
France
LCBO product# 168963 | $18.95

Red
Grant Burge Mambas Shiraz 2010
South Australia, Australia
284091 | $21.80

Zenato Ripassa Valpolicella Superiore 2009
Veneto, Italy
479766 | $24.95

Thornbury Pinot Noir 2010
Central Otago, New Zealand
329706 | $24.95

Henry Fessy Moulin â Vent 2010
Beaujolais, France
332882 | $20.35

White
Tawse Quarry Road Riesling 2011
Ontario, Canada
198853 | $23.95

Framingham Chardonnay 2009
Marlborough, New Zealand
309534 | $19.95

André Blanck Altenbourg Gewürztraminer 2012
Alsace, France
168906 | $18.95

Dessert
Graham's Twenty Year Old Tawny Port
Portugal
620641 | $36.95

Sandeman Vau Vintage Port
Portugal
251090 | $19.95