The Spirit of Aveleda

Within the realm of collecting and admiring objects of desire such as fine wine in older vintages, I have stumbled upon some truly spectacular cellars. Rooms illuminated by torches, crusted with decades of cobwebs, and adorned with vaulted stone ceilings all send my imagination into a state of flurry. None however, have left me truly speechless – until recently, that is. Sheer awe would not be an over-exaggeration and visions of the brandy cellar at Quinta Aveleda in Portugal's Vinho Verde still stir in my mind late at night and well over a month later.
Avedela is a large-scale Portuguese producer boasting a wide range of wine in terms of both quality and style. While in Portugal on a recent media trip, I tasted the full line up of Aveleda's table wines, topping off the experience with a glass of the quinta's distilled product they proudly call Adega Velha da Casa d'Avelleda – 'Old Cellar of the house of Aveleda'. The drink itself is smooth, warm, and soothing to taste, perfect on a cold night by the fire - but my fascination with Adega Velha goes well beyond a simple tasting note and lingering finish on the palate.
Francisco Guedes, a member of the Aveleda family kindly provided a tour of the historic grounds where we eventually stopped at a stone building on the property. The tone of his voice changed as we stood outside the old wooden doors.
"We're not really permitted to go in here." Francisco admits under his breath. "This wine holds a special place in our hearts and our winemaker prefers not to disturb the barrels as they age."
Temptation is a powerful force and after such a speech, I was not only curious, but also willing to beg for a 'tour under the radar'.
I have spoken on numerous occasions about the ambiance of wine, the atmosphere and anticipation created by the setup to taste. That same feeling exists whether at home with family, out with friends, or in Portugal standing at the foot of century old doors that pose a barrier to my unstoppable curiosity -- do it Francisco! I won't tell a soul...
My guide unlatches the doors to reveal a long, narrow corridor stacked with barrels three layers high. The cellar is long enough that I can barely see to the far end in the dim lighting and music plays in the background – to nurture the wine, perhaps. It will remain encased in French oak for over 12 years to gain complexity.
"We'll exit at the far end." Francisco states, yet I am reluctant to move - this place exudes perfection in every possible way and walking to the far end will only shorten my already brief stay.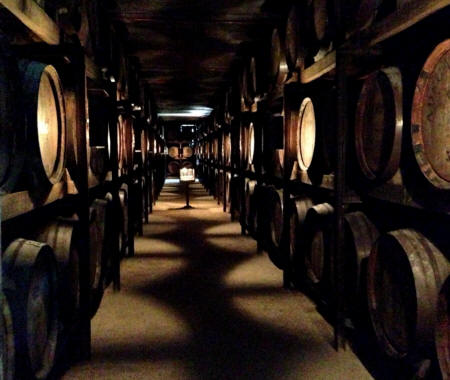 The barrels rest in a state of flawless symmetry as the corridor gradually guides us toward a small display case midway to the opposite end. Any sound is muted by the sand on the floor and I hear only my footsteps in time to the entrancing Gregorian harmony. Locked inside the glass curio case are two old bottles, both covered by a thin layer of dust. One is an ancient Russian vodka flask used as the original template for the bottle that Aveleda designed long ago to hold their prized brandy; the other is a bottle from the first year of Adega Velha production. A similar display would add a touch of flare in any wine cellar – and for a brief moment, my mind wanders to my own collection at home.
Continuing toward the far end of the hall, every aspect of this vinous dungeon exists in a state of perfection. I have no desire to leave and pause to snap a few photos in an effort to recreate the magic for those who may snever be fortunate enough to enture into northern Portugal's Vinho Verde..
Take a short walk through the cellar with me -- view video here